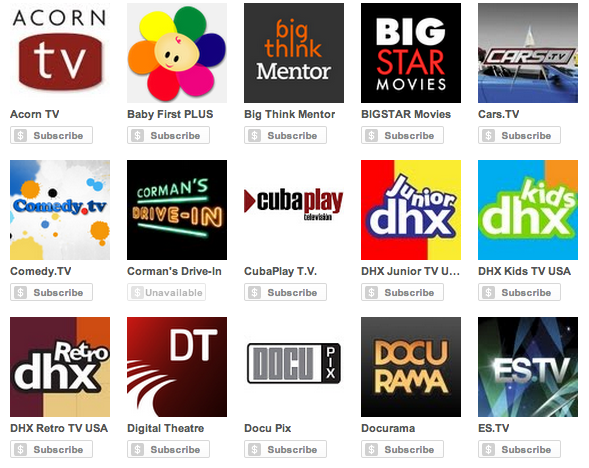 Last week YouTube made official what had long been rumored and announced a new slate of paid channels.
Starting today, we're launching a pilot program for a small group of partners that will offer paid channels on YouTube with subscription fees starting at $0.99 per month. Every channel has a 14-day free trial, and many offer discounted yearly rates. For example, Sesame Street will be offering full episodes on their paid channel when it launches. And UFC fans can see classic fights, like a full version of their first event from UFC's new channel. You might run into more of these channels across YouTube, or look here for a list of pilot channels. Once you subscribe from a computer, you'll be able to watch paid channels on your computer, phone, tablet and TV, and soon you'll be able to subscribe to them from more devices.
While this announcement is potentially good news in that it offers content creators large and small new ways to monetize their work, unless YouTube purges pirates from the site, it's is a business model that remains tainted.
I've written previously about the various ways YouTube enables (and reaps profit) from movie piracy.  With the latest announcement paid YouTube channels, I thought it worth looking at yet another example of their dirty laundry.   This time it's an Argentina-based website that uses popular movie trailers on YouTube to attract customers to its online store selling bootleg DVDs and video games.
I came across the illegal site when I viewed a trailer the French indie film "Tomboy" uploaded to YouTube.  The user had uploaded a number of trailers to his YouTube channel and in the description for each, included a link to his illegal website.  To add insult to injury, the trailers featured not only a link to the bootleg site but included a its own splashy animated logo edited in.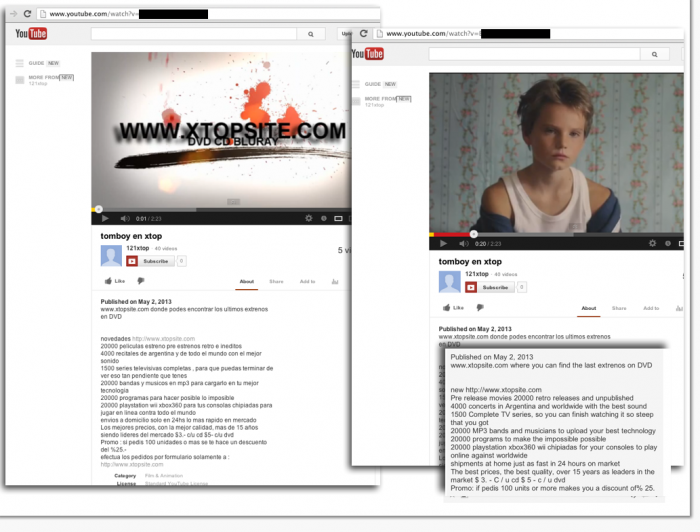 Here's the description translated from Spanish:
www.xtopsite.com where you can find the last extrenos on DVD
new http://www.xtopsite.com
Pre release movies 20000 retro releases and unpublished
4000 concerts in Argentina and worldwide with the best sound
1500 Complete TV series, so you can finish watching it so steep that you got
20000 MP3 bands and musicians to upload your best technology
20000 programs to make the impossible possible
20000 playstation xbox360 wii chipiadas for your consoles to play online against worldwide
shipments at home just as fast in 24 hours on market
The best prices, the best quality, over 15 years as leaders in the market $ 3. – C / u cd $ 5 – c / u dvd
Promo: if pedis 100 units or more makes you a discount of% 25. -
orders effected only by form: http://www.xtopsite.com
When I navigated to the website, I found this, a virtual storefront that looks legit enough, but isn't. How could I tell? Well, the first clue was the DVD for the film "42″ which just recently appeared in theaters. "42″ is not scheduled to be released on DVD until this summer, August 2013.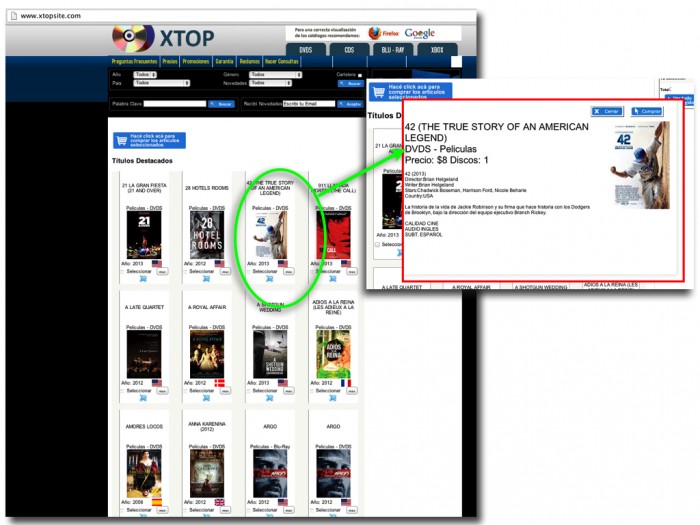 This site also sells (bootleg) Xbox games, along with advice for finding cracked serial numbers online.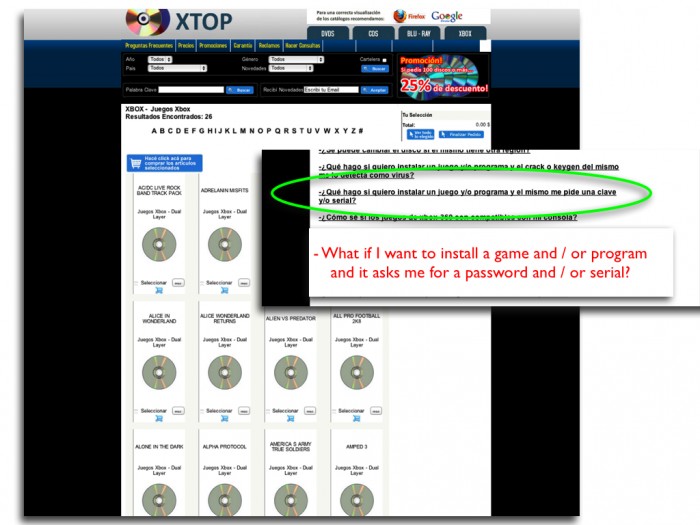 Here's the specific advice (translated from Spanish):
Clearly these pirates are using YouTube as a means to advertise and drive traffic to their illicit business.  Since it's based in Argentina, they can operate openly with little fear of closure  since the country is notoriously lax on piracy.  An article published on smartplanet.com sums it up pretty well:
Argentine websites and physical markets questioned for distributing pirated and counterfeit material shows how relaxed local attitudes are toward intellectual property. Students regularly buy photocopies of entire college texts rather than pay for the book, while several Buenos Aires parks fill on weekends with vendors openly selling pirated computer software.

Part of Argentina's fertile culture of piracy is inspired by a belief that intellectual property rights can be sacrificed in the name of helping the poor and forgotten against large corporations; part is caused by Argentina's lax enforcement of intellectual property laws; and the rest comes from the country's isolating economic policies, where import restrictions and high import taxes make buying genuine foreign goods prohibitively expensive.
The Office of the U.S. Trade Representative has placed Argentina on its "watch list" citing copyright infringement as one concern, "However, serious problems persist, including widespread availability of pirated and counterfeit goods, an inefficient judicial system, and a failure to adjudicate civil and criminal cases and impose deterrent level sentences…overall levels of copyright piracy continue to present a problem, as reflected, for example, in a reported growth in piracy over the Internet."
So while the United States is concerned that Argentinian authorities inaction against IP theft and piracy, a U.S. based company like YouTube help them facilitate it without a problem? As a business that abides by U.S. law, should YouTube/Google do more to prevent an illegal enterprise from using their website to promote/distribute illegal goods?
According to YouTube's own "Terms of Service"  (and I assume U.S. law) the company bears no responsibility in these situations:
The Service may contain links to third party websites that are not owned or controlled by YouTube. YouTube has no control over, and assumes no responsibility for, the content, privacy policies, or practices of any third party websites. In addition, YouTube will not and cannot censor or edit the content of any third-party site. By using the Service, you expressly relieve YouTube from any and all liability arising from your use of any third-party website.
In addition to their "Terms of Service" YouTube offers users a bit more guidance via their "Community Guidelines," but here, the only reference discouraging "illegal" activities are "Dangerous Illegal Acts" like bomb making and sniper attacks.  Nothing about operating illegal bootleg/counterfeiting operations.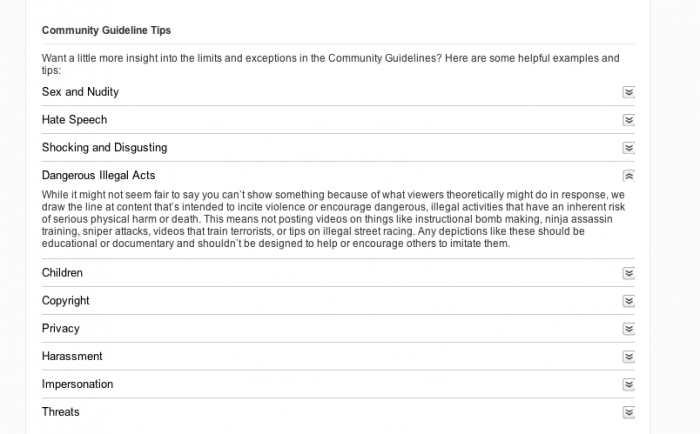 Is the situation any different with YouTube's parent company Google?   Not really since Google's terms of service follows the same murky (though apparently legal) path.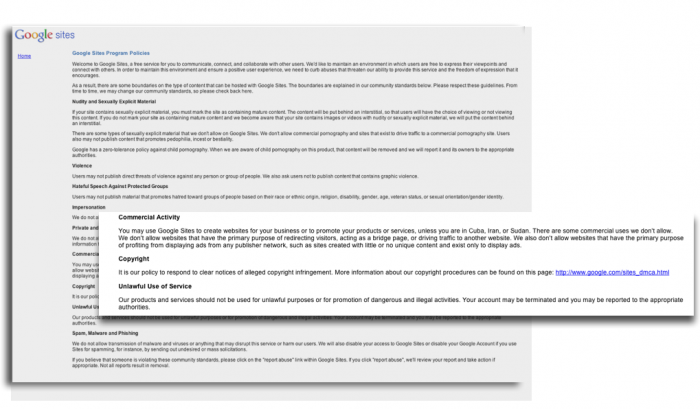 If the bootleg site is in Iran, Cuba or the Sudan, it seems Google may be forced to act, otherwise, despite lip-service that frowns on "dangerous and illegal" activities, linking to illegal businesses is A-OK.  If I'm interpreting the verbiage correctly,  bootlegging DVDs is not dangerous per se (which obviously it's not), then the illegal part is moot.  Though Google terms state that users aren't allowed to create websites, " that have the primary purpose of redirecting visitors, acting as a bridge page, or driving traffic to another website" it appears that the company does little to stop this activity, at least on YouTube.
Commercial Activity

You may use Google Sites to create websites for your business or to promote your products or services, unless you are in Cuba, Iran, or Sudan. There are some commercial uses we don't allow. We don't allow websites that have the primary purpose of redirecting visitors, acting as a bridge page, or driving traffic to another website. We also don't allow websites that have the primary purpose of profiting from displaying ads from any publisher network, such as sites created with little or no unique content and exist only to display ads.

Copyright

It is our policy to respond to clear notices of alleged copyright infringement. More information about our copyright procedures can be found on this page: http://www.google.com/sites_dmca.html

Unlawful Use of Service

Our products and services should not be used for unlawful purposes or for promotion of dangerous and illegal activities [emphasis added]. Your account may be terminated and you may be reported to the appropriate authorities.
The U.S. Customs and Immigration Enforcement (I.C.E.) has been seizing web domains as part of an ongoing effort to battle counterfeiting across the globe.  Perhaps its time to examine the mechanisms by which U.S. companies indirectly aid such criminal enterprises as well?  Why not engage some of our own companies in a discussions aimed at reducing their role in enabling these criminal activities?
On another front, why not enlist the YouTube community in helping to report these questionable sites?  YouTube has a system whereby users can flag material deemed to be in violation of "rules:"
Users report content that may violate YouTube's rules by flagging it. YouTube's rules are outlined in ourCommunity Guidelines. YouTube staff review flagged videos 24 hours a day, seven days a week. When a video is reviewed and determined to violate our Community Guidelines we remove it.
YouTube seems to have no problem allowing its users to flag innocuous kissing scenes from lesbian/gay tv shows and movies, why not give its "community" an easy way to flag material actually links to illegal content–content that does harm?  According to YouTube's community guidelines:
We Enforce These Guidelines

Okay, this one is more about us than you. YouTube staff review flagged videos 24 hours a day, seven days a week to determine whether they violate our Community Guidelines. When they do, we remove them. Sometimes a video doesn't violate our Community Guidelines, but may not be appropriate for everyone. These videos may be age-restricted. Accounts are penalized for Community Guidelines violations and serious or repeated violations can lead to account termination. If your account is terminated, you won't be allowed to create any new accounts. For more information about how the Community Guidelines are enforced and the consequences of violating them, please visit the Help Center.
At present, it's pretty much impossible notify YouTube about the illegal linking scenario I've described in this post because 1) it's not a "dangerous and illegal act" 2) it doesn't infringe "my rights."  When I tried to flag the trailer and alert YouTube that this YouTube channel linked to a counterfeit site I was met with a form that required information (like an actual hyperlink to the law being infringed) and legal standing that I don't posses.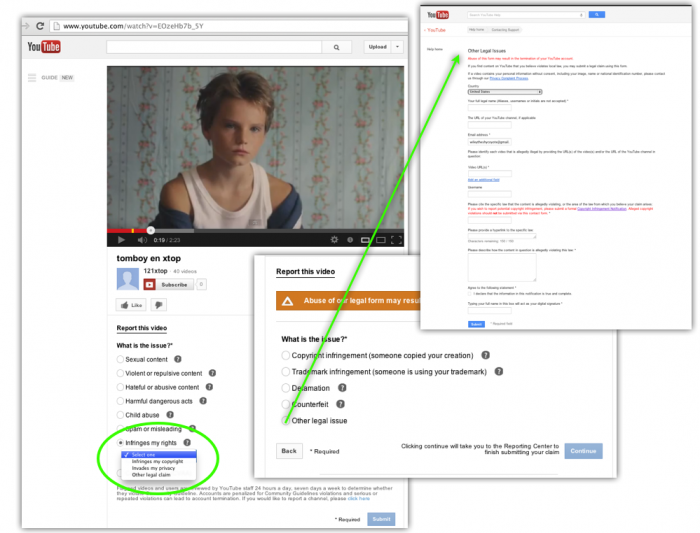 Clearly YouTube doesn't want to be deluged with false claims, but making an option available for users to report a legal issue that does not involve one's own trademark or copyright would help.
There may be other technological ways to vet questionable links.  Google seems to achieve wonders with its search algorithms.  Why not utilize technology to ferret out links to dubious websites posted on their pages?  Google regularly labels sites as "compromised" on search results.  Of course, when it comes to others attempting to crackdown on criminal websites listed via their search engine Google likens this to an attack on "free speech."
For now, it seems Google has no legal obligation to worry about its role in facilitating illegal activity like bootleg DVD sales.  After all, sharing links to infringing streams and downloads is allowed to fly under the radar, so is it any surprise other savvy pirates link to their sites selling bootlegged copies?  Moving forward, one can only hope Google representatives begin to acknowledge this problem and begin to develop efficient and thoughtful ways to deal with it.  If Google wants YouTube channels to become a legitimate and profitable means of distribution for content creators, why not get rid of those YouTube users whose activities undermine the livelihoods of these same creators YouTube is attempting to woo?