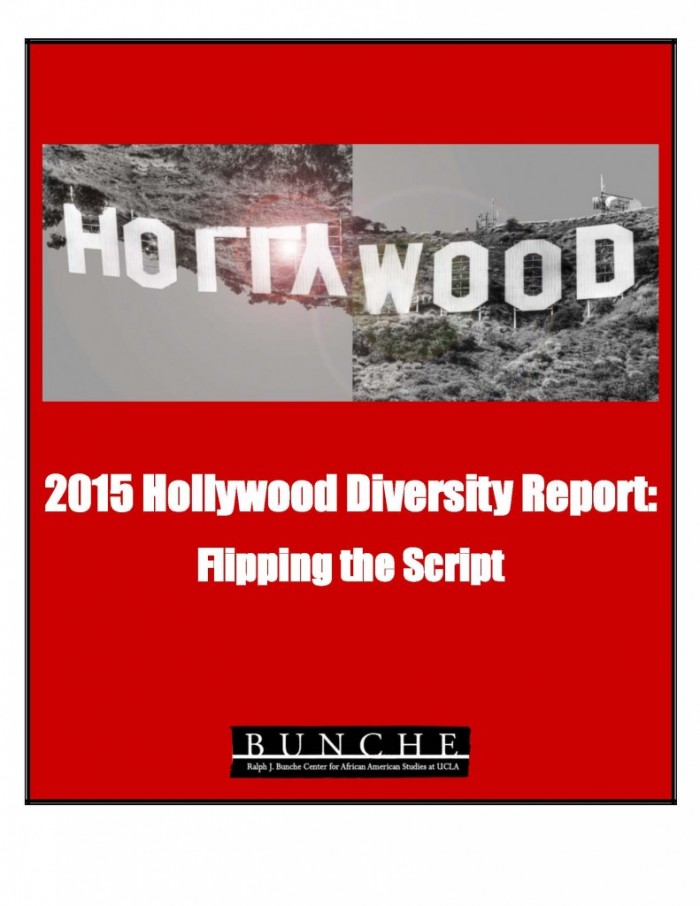 Hollywood filmmaking has long been on the cutting edge of innovation–except when it comes to the hiring of women and minorities. These are the conclusions of the 2015 Hollywood Diversity Report-Flipping the Script released yesterday by UCLA's Bunche Center for African American Studies.  The second in a series of reports by the center's Hollywood Advancement Project, this year's study indicates that–despite some minor gains–women and minorities in Hollywood are still sorely underrepresented at all levels of employment–both in front of, and behind the camera.
This despite the fact American audiences are increasingly diverse.  Darnell Hunt, director of the Bunche Center, and the report's lead author points out the contradiction:
Television shows that reflect American diversity and films that reflect American diversity do better at the box office, TV shows do better in terms of ratings…There's a disconnect between what sells and what Hollywood is doing in terms of business practices.
Interview with study co-authors Darnell Hunt and Ana-Christina Ramon
Should this disconnect persist, the Hollywood business model could take a hit according to the report's authors:
…business as usual in the Hollywood industry may soon be unsustainable.  Evidence from this report (and its predecessor in the series) shows clearly that America's increasingly diverse audiences prefer diverse content created with the input of diverse talent.  Diversity sells.
The Hollywood Reporter's Austin Siegemund-Broka in her piece,  "Diverse Casts Deliver Higher Ratings, Bigger Box Office: Study," noted:
Viewers like diversity, with broadcast scripted shows 41 percent to 50 percent diversely cast scoring the highest ratings in black and white households alike in 2012-13, while on cable, white and Latino viewers preferred casts with 31 percent to 40 percent diversity. Black households preferred cable shows with more than 50 percent diversity…
What about the brave new world of digital programming?  Has this new "Golden Age of Television"  created golden opportunities for women and minorities to shine?  In a word, no.  According to the report, while only 11.2% of directors for cable scripted shows are women, they fare even worse in digital, directing fewer than 10% of episodes.   Figures for minority-directed programming in both categories are equally anemic.  It should also be noted that female and minority representation in both above-the-line and below-the-line roles would be even more dismal were it not for programs like Netflix's Orange is the New Black or Hulu's East Los High.
For those concerned about this issue–and everyone who works in the business should be– it's worth taking time to entire report, and review the compelling statistical analysis based on 2012-2013 data (from various sources) that's  broken down into following categories: theatrical films; broadcast scripted shows; broadcast reality and other shows; cable scripted shows, cable reality and other shows; digital platform and syndicated.
How to change these long-held patterns in Hollywood, or "flip the script" as the report suggests?  Its authors admit there's no "magic bullet" to cure Hollywood's ills, noting it's a "multi-dimensional" problem with no easy solutions.
Darnell Hunt, explained why such patterns persist in comments to the Hollywood Reporter:
"It's a high-risk industry. People want to surround themselves with collaborators they're comfortable with, which tends to mean people they've networked with — and nine times out of 10, they'll look similar. It reproduces the same opportunities for the same kind of people: You're surrounding yourself with a bunch of white men to feel comfortable."
Real progress will require continued efforts on many fronts from executive offices to back-lots.  It's a daunting task that the report summarizes this way:
In the end, every industry stakeholder-individual and institutional-has a role to play if meaningful industry advancement is to be achieved on the diversity front. Broadcast networks must begin to treat the airwaves as a public good through which diverse content promotes profits and democracy.  Studios must cast the net much more widely when they entertain pitches for film and television projects. Talent agencies must diversity their rosters, packaged products and their own ranks.  The film and television academies must overhaul their memberships.  The guilds must better understand their respective membership pipelines and find ways to increase access and professional development for minorities and women.  Individual producers and writers must finally accept the notion that having diverse voices and perspectives in the room actually increase their odds for success.
Here's hoping that the Bunche Center next Diversity Report gives us better news.  It can't get much worse.